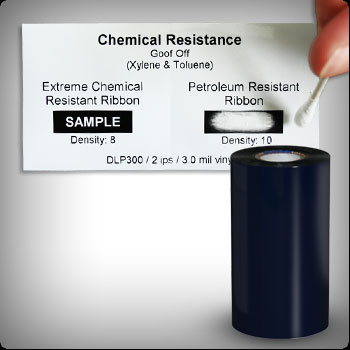 Chemical-resistant-Ribbons:
Chemical Resistant Resin ribbons are capable of handling extreme environmental labeling with a high chemical resistance including alcohol and petro chemicals. Having a wide print latitude to broad range of plastic films, synthetics and polyesters it is the ideal ribbon for extreme environment labeling, circuit board labels, chemical drum, automotive, signage, electronic component, product identifi cation and asset tracking labeling.
Chemical Resistant Ribbon is our most chemical and abrasion-resistant ribbon. It prints a tough and durable resin ink, made for lasting durability when exposures to harsh chemicals, like solvents and degreasers are possible.
When printed with this specialty ribbon, labels and signs offer premium chemical resistance to several popular solvents used as thinners and paint removers. Labels printed with Chemical Resistant Ribbon have been tested and shown to perform well after harsh chemical exposure and abrasive scratching
Call us regarding Chemical Resistant Ribbons - 09717122688 , +91-11-28032434
---
---
Review
Categories
Similar Products
Other Sites