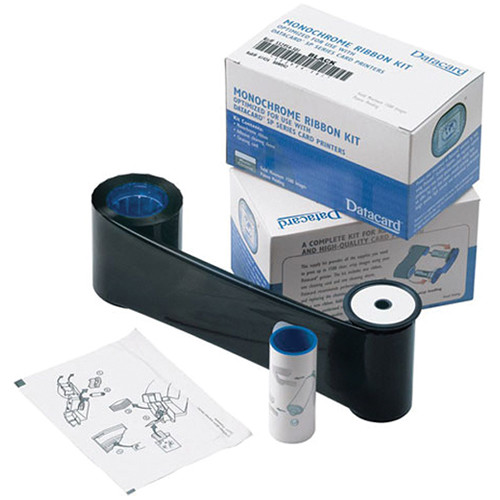 Datacard 532000-053 Monochrome Ribbon Description
Datacard 532000-053 K HQ 1500-print monochrome ribbon kit.
Datacard 532000-053 K HQ ribbons are ideal for printing economical, high-quality (HQ) cards using one-color text, barcodes and/or line art, and feature an Earth-friendly biodegradable core.
Note: Black resin is needed to print readable barcodes.
To maintain your Datacard card printer's warranty, genuine Datacard ribbons must be used. As an authorized Datacard Solution provider, ID Wholesaler only sells Genuine Datacard 532000-053 Black Monochrome Ribbon.
We offer a low price guarantee on black monochrome Datacard 532000-053 ribbon.
Note: The Datacard 532000-053 replaces the Datacard 552954-601 ribbon.
Did you know that Datacard 532000-053 monochrome ribbons have a shelf life?
When stored under proper conditions, Datacard 532000-053 monochrome ribbons typically have a shelf life of up to one year. Ribbons that are more than a year old, and improperly stored, will not print optimally and will likely end up costing more money and time in maintenance and in reprinting cards.
Model No. : 532000-053 Black
Brand Name : KEDE

Ribbon Color : Black Monochrome
Prints : 1500 single-sided cards
Compatible for : Datacard SD260 SD360 SD460 SP35 SP35Plus SP55 SP55Plus SP75 SP75Plus FP65 FP65i

Also replaces 552954-601 & 532000-002

Includes cleaning kit: 1 Cleaning Card and 1 Cleaning Roller

---

Quantity: 50 roll Per Carton

Carton Size: 41x29x53 cm

Gross Weight: 9.00kg
---
---
Review
Categories
Similar Products
Other Sites