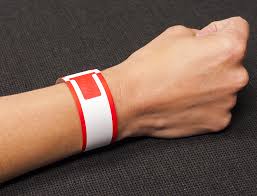 Patient-ID-Single-Bands:
AdCura's patient ID wristbands are a single adult polyester 1" x 10.5" wristband, on an 11" x 3" paper base. They are easy to use, durable and comfortable. These patient identification bands are latex free and resist water and alcohol to preserve printed data. They are simple and easy to feed through a laser printer. Our no-overlay film design improves scanning of barcodes and is flexible for easy patient application. Packaged as 500 wristband sheets per box. Custom wristband color options are available.
All of our AdCura products can be custom branded to your company's name, product number, software layout and color.
SINGLE ADULT BAND (AHP-5410)
SINGLE ADULT BAND (AHP-5411; A4 VERSION)
---
---
Review
Categories
Similar Products
Other Sites