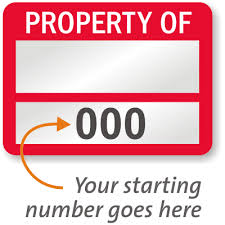 Property-Label:
Mark your asset labels with a permanent message. The soft surface lets you mark foil asset labels with a pencil or pen, but your message lasts long after the ink washes away. Deter theft with this 'Property Of' message. A tough, high-bond adhesive is perfect for protecting your valued inventory and personal items.
• Sticks to most surfaces - permanently mark your property with rugged and durable dead soft aluminum.
• Property identification and asset tracking has never been easier.
• Choose your starting number. Each set of labels comes in a consecutively numbered set.
• Find more pre-numbered and barcoded asset labels. Automatically label your tools, fire extinguishers, inventory, equipment, and more.
---
---
Review
Categories
Similar Products
Other Sites