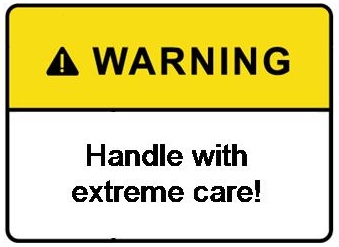 Warning-Labels:
PM LABELS warning labels are designed in bold eye-catching colors to warn employees,visitors or the general public of hazardous conditions in effort to prevent errors and injury.Common uses include warnings for toys,household cleaners,machinery,electrical equipment,chemicals and infant products.
Safety labels Most safety labels must be extremely durable,even outdoors.Many must meet the design and material requirements including their newly designed templates.When safety labels must be incorporated in the design of a new piece of equipment manufactured and sold for public use,Underwriters.UL Recognized labels typically bear safety-related information such as warnings, cautionary markings, installation instructions or electrical ratings.
We provide blank die cut labels and compatible printing ribbons so that you can print your own durable warning labels on any thermal transfer printer.Many of our labeling components have already been thoroughly pre-tested by UL to meet performance requirements such as legibility retention,resistance to defacement and permanent adhesion to a surface so they can be used for all types of safety labeling.
If you prefer,we can print your safety labels for you using single or multiple colors.For extra durability we can add film over laminate to protect your labels against abrasion,chemicals,solvents,dirt,grease and even UV sunlight.We also have special adhesives for long-term permanent bonding to difficult surfaces such as plastic, metal or concrete.
Custom warning labels are created for specific purposes such as industrial situations where interior environments present safety or health hazards to workers and the public.
Industries Used: Manufacturing, Warehouse & Distribution
---
---
Review
Categories
Similar Products
Other Sites