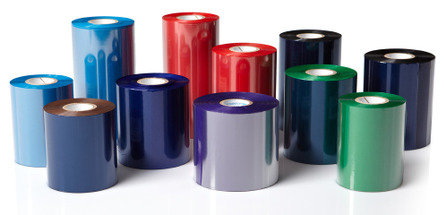 Wax-Resin-Ribbons IBCR 20A- IBCR20N-IBCR22 three catagories developed by MINDWARE New delhi India:
The Wax - Resin range of barcode thermal ribbons provide outstanding print quality, combined with chemical and solvent resistance. Wax - Resin thermal ribbons are smear and scratch resistance on paper and synthetic label stocks. This barcode thermal ribbon results in excellent staying power and durability in harsh environments.
Wax / Resin ribbons are a combination of wax and resin based colorant substances in which resin substances hold a greater percentage. Wax / Resin ribbons are made of two or more layers. Resin substances have a highier melting point thus increasing the melting point of the ribbon. Printing with Wax / Resin ribbons takes place at a highier heat or energy setting then wax ribbons. As resins are harder then waxes image durability ,chemical resistance and abrasion smudge scratch resistance is more than that of wax based ribbons. They also assure excellent edge definition. Wax / Resin ribbons can be used with glossy or smooth surfaces, synthetic materials. Printing speeds of 16 inches per second can be achieved with Wax / Resin ribbons. Wax / Resin ribbons can be used for all purposes where wax ribbons are used but where there is a chance of abrasion or scratch due to contact. Wax / Resin ribbons are slightly expensive then wax ribbons.
Call us regarding Wax-Resin-Ribbons - 09717122688, +91-11-28032434
---
---
Review
Categories
Similar Products
Other Sites